Here's Why You Should Join Us!

Amazing Conversions & EPC's
We have been selling WPDating plugin to web development niche for more than a year now and we consistently have incredible conversions and EPCs that range from 8-12%...

Compete with Yourself Contest
We would like every affiliate to be duly rewarded with their hard work and have an equal opportunity to earn wether you're a Newbie or Pro. Our JV contest will not have you compete with all other affiliates but with yourself. We make our launches a TON of FUN by giving our affiliates an incredible prize pool that anyone can win...

Tools for MAXIMUM
Profits
We give you all the tools you need to maximize your profits including high-converting swipes, banners, and more...

We make sure that the products we developed are of high quality and user-friendly so you will have the confidence and peace of mind promoting them. We always over-deliver on value...
We Are Launching With JVZoo!

To qualify for JVZoo instant payments you must have at least 50 sales in JVZoo.
Maximize Your Earnings With Our Sales Funnel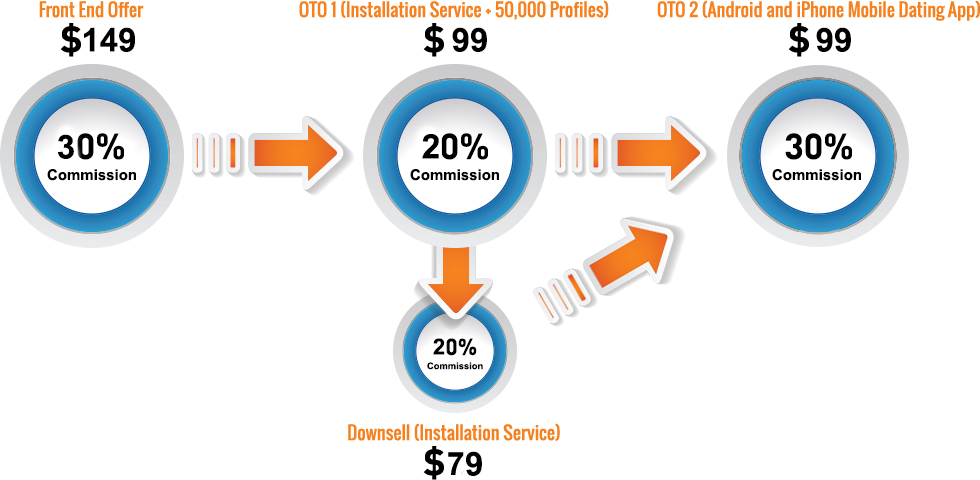 Check Out Some Amazing Features of WPDating
Happy Customers Are Our Top Priority
We will make sure that your customers are satisfied, taken care of and will come back for more. WPDating believes that customer satisfaction is an integral part of our business. And with that said, we will make sure that your customers will become our happy customers too! We doubled our customer care team and our average response time must be no more than 24 hours.
***Important Reminders
It is ABSOLUTELY VITAL that every affiliate adhere to the HIGHEST POSSIBLE STANDARDS of Ethical & Legal Conduct during this promotion.
Tracking is Cookie based- last cookie gets credit for the sale. The Federal Trade Commission has recently more clearly defined best practices for affiliate marketers, and it is our position that all affiliates of WPDating must use these guidelines and regulations as Standard Operating Procedure during their endorsement or promotion.
Step 1 - Download and Review the FTC Document for Endorsement Guidelines: http://ftc.gov/os/2009/10/091005revisedendorsementguides.pdf
Step 2 - In addition to the FTC Guidelines, please observe the following Best Practices:
When you promote, make sure you: ** Include your Affiliate Disclaimers and Disclosures. The bottom line is, if you make a sale via an affiliate link, it's because you're getting paid to do so – be honest about that. Include these disclaimers during email or advertising promotions.
 Include your relevant Privacy Policies on sites that you are promoting with.
 Include your Terms of Service on sites that you are promoting CF with.
 Include your Forward Looking Earnings Statements on sites that you are promoting CF with.
 DO NOT SPAM (Do NOT send JUNK or UNQUALIFIED TRAFFIC to this offer)
Don't TWITTER SPAM or Social Media Spam
 Don't misrepresent yourself as a "typical result" or as a "typical customer" when you promote this offer
 Be transparent and authentic – We'll treat your prospects with MASSIVE RESPECT!
NOTE: There will be NO commission payments paid on PERSONAL USE Sales of the Product - meaning, if the only purpose in joining this affiliate program was to get a commission on a sale for Personal USE, that's not cool. We do track and reconcile every sale – and in cases where an affiliate has a single sale to themselves, commission will NOT be paid on that sale. That's simply NOT FAIR to the affiliates who have promoted in good faith only to have one of their prospects join the affiliate program to get their own commission and cut the original affiliate out.
Copyright 2016 - affiliates.wpdating.com - All Rights Reserved